Overview:
Substantially faster wash speeds lead to increases in vehicle throughput and shorter lines that will make your customers happy. Simplified machine design and lower energy and utility usages reduce operating costs leading to a more profitable car wash operation.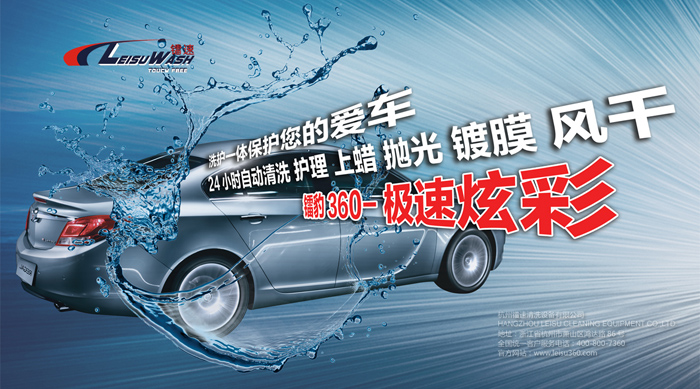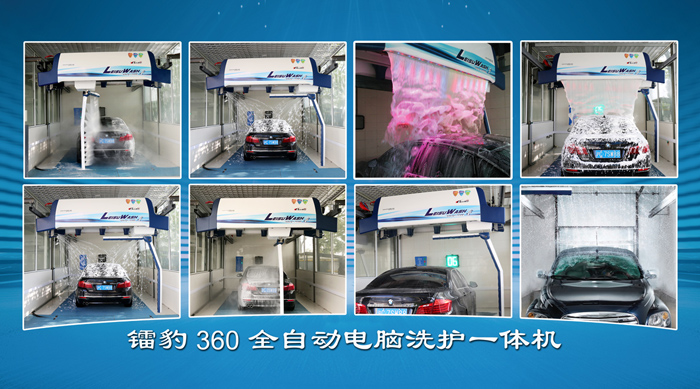 Key Features
1. Intelligent unmanned systems, self-service card payment system.
2. Smart 360 technology.
3. Intelligent chemical mixing system.
4. Innovative suspension system non-resistance rails.
5. Unique embedded fast air drying system.
6. Digital voice security alarm system.
7. Faulty self-checking system.
8. One key anti-frozen system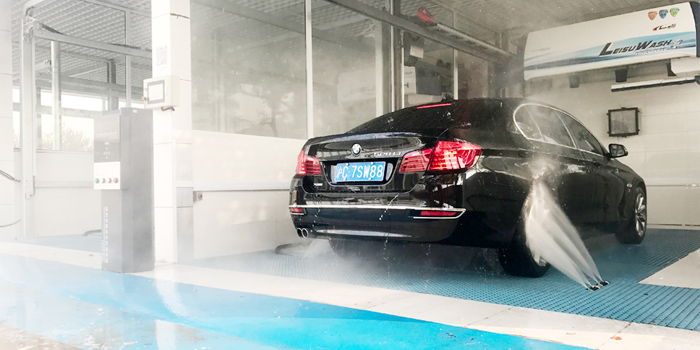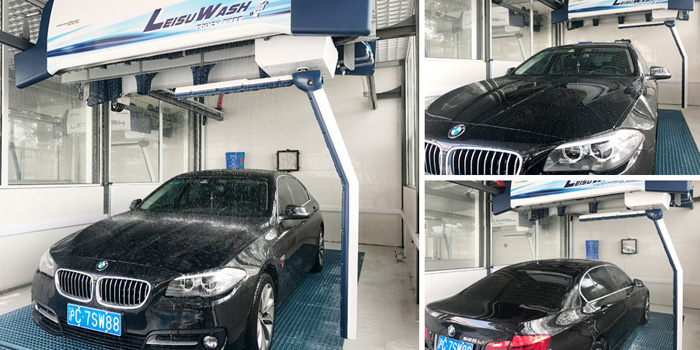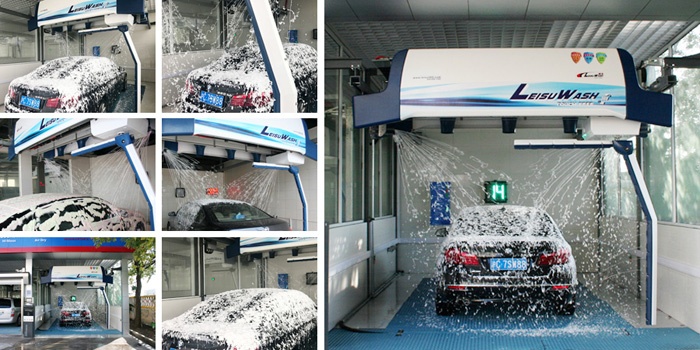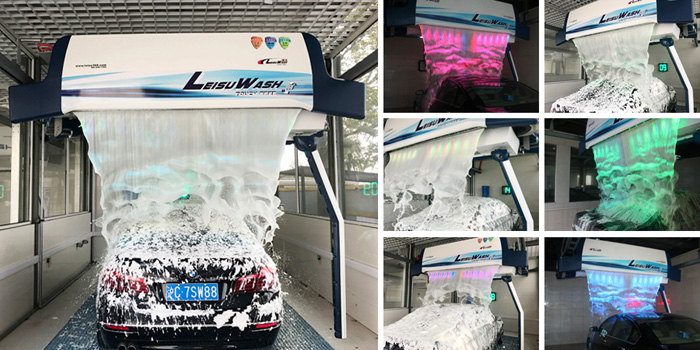 100% accurate measurement with adjustable ratio. only 20~50ml pre-soak consumption for washing one car through high precision chemical mixing system, save material and cost efficiently.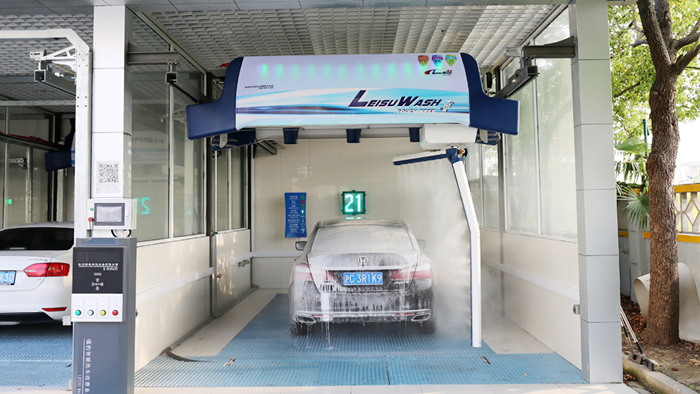 Complete 360° rotating within 28 seconds, water saving 50%, electricity saving 60%, automatic detect the length and width of the vehicle, up to 80bar high pressure water can easily remove the dirt.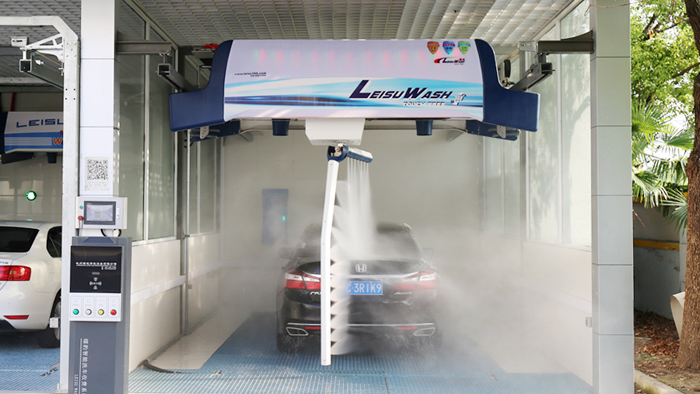 Soft water can make magic crystal coating color shampoo and wax completely adsorbed body surface, forming a multi-layered interaction strength protective film, car paint become more glorious and beautiful with durable paint protection.
Crystal coating of wax can be generated in the paint surface layer polymer, the water softener fused into a hard protective film, with superior protection of car paint, and features anti-acid rain, pollution, UV erosion.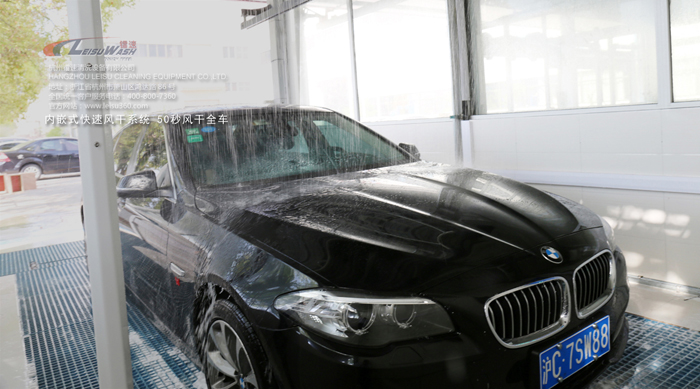 Leisuwash installation 3D drawing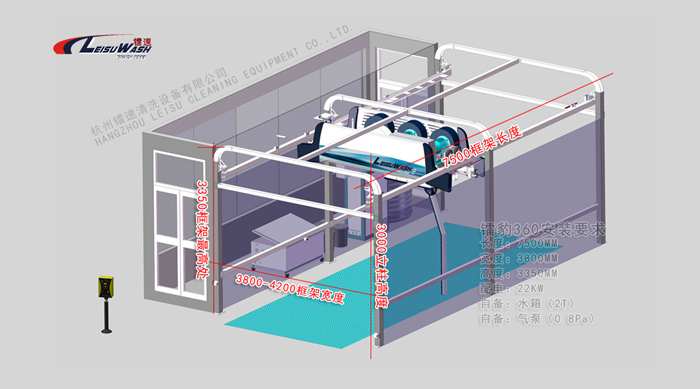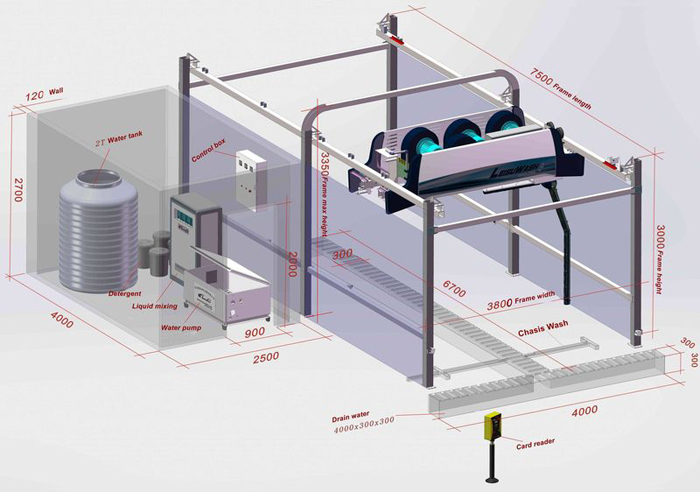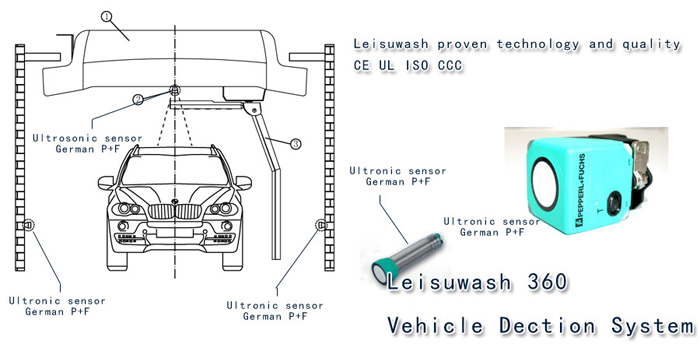 Technical Parameters:
| | |
| --- | --- |
| Main machine size | 3500mm*1200mm*900mm |
| Water pump size | 1200mm*700mm*600mm |
| Chemical mixing system size | 800mm*450mm*1400mm |
| Rail length | 7500mm |
| Min Mounting Dimensions ( length*width*height ) | 7600mm*3850mm*3350mm |
| Max car wash size ( length*width*height ) | 5900mm*2900mm*2050mm |
| Power Requirement | 380V/22Kw, 50Hz/60Hz |
| Air switch | 80A air switch |
| Total power | 45kw |
| Water pump motor power | 15~22Kw |
| | |
| --- | --- |
| Air fan motor power | 20.5Kw / full pressure 11000Pa / air volume 23000 cubic meters / h |
| Longitudinal motor power | 0.37Kw stepless frequency control |
| Transversal motor power | 0.75Kw servo drive system |
| Rotary motor power | 0.75Kw servo drive system |
| Chemical mixing system motor power | 1.5kw |
| Central processor | Industrial PLC embedded central processor + dual-core system |
| Drive System | Servo drive system |
| Detection system | Smart three-dimensional monitoring system |
| Sensor System | Ultrasound+ Absolute value of the digital encoder |
| Speed | 360 wash 28 seconds, energy saving 60% |
| | |
| --- | --- |
| Pre-soak consumption | 20~50ML/Car ( Depends on chemical proportioning ) |
| Polish shampoo consumption | 50~100ML/Car |
| Crystal wax consumption | 20~40ML/Car |
| Water consumption | Standard wash 100L/car, Fine wash 150L/car |
| Electricity consumption | Standard wash 0.52 KW·H/car, Fine wash 1 kW·H/car |
Leisu Company depends on its excellent product quality,stick to the idea with first-class prodct manufacturing,make a enormous leap from"made in China"to"created in China".Heretofore,Leibao car wash machine has already been selled to all the provinces and municipalities in China,including Taiwan and Hong Kong,Macau administrative region,exported to 81 overseas countries and districts,also established agency and service network station in those places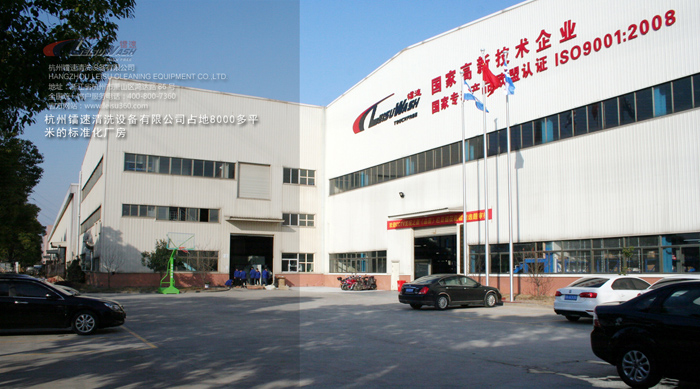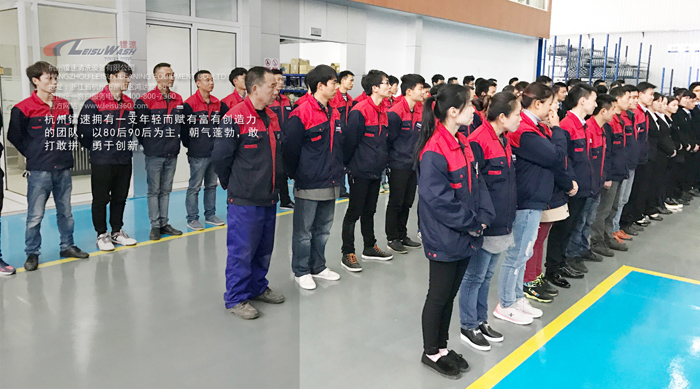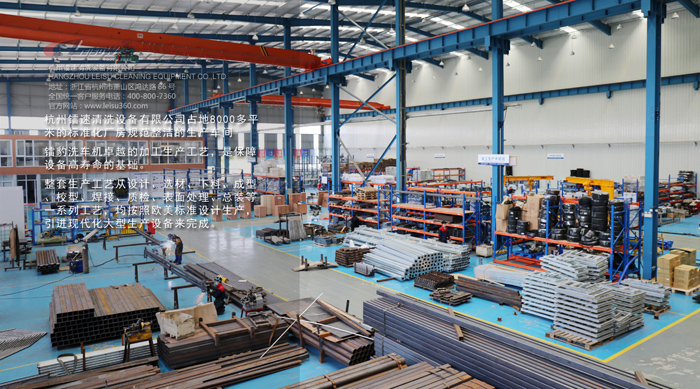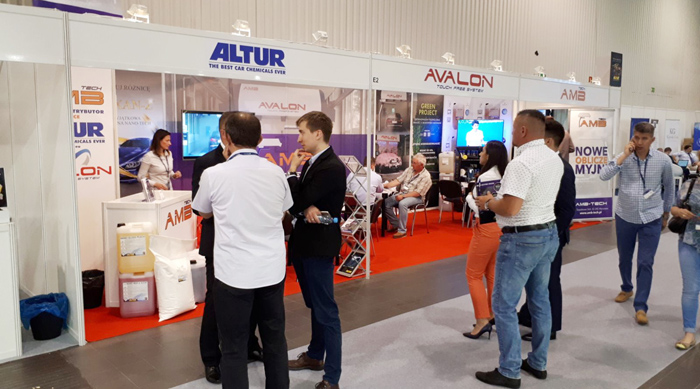 Leisuwash SG Car Wash System Configuration
Email: info@leisuwasher.com
Cell: 0086-15257155531(wechat,viber)
0086-13339249386(whatsapp)
Skype:carcomewash
Website: www.carcomewash.com
Facebook: www.facebook.com/carcomewash
Linkedin: www.linkedin.com/company/carcomewash
Ali shop:https://cn1528125238lnkg.en.alibaba.com
Youtube:https://youtu.be/GcFx4UAiaro